NALCO Mines gets 5-Star Rating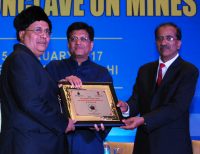 The Panchpatmali Bauxite Mines of National Aluminium Company Limited (Nalco) has been conferred with the 5-Star Rating by the Ministry of Mines in stringent evaluation process taken up by IBM. The 5-star rating award, along with certificate of excellence was handed over to Dr. Tapan Kumar Chand, CMD NALCO, by the Union Minister of Power, Coal, New & Renewable Energy and Mines Shri Piyush Goyal during the 2nd National Conclave on Mines and Mineral held at Delhi on 15th February, in presence of Shri Balvinder Kumar, IAS, Secretary, Ministry of Mines, Govt of India. The award has been given to Nalco for its efforts and initiatives undertaken in the implementation of the Sustainable Development Framework (SDF). The SDF includes implementation of best practices in mining operations, rehabilitation & reclamation of mined out area, environment protection, as also various steps taken in healthcare, periphery and skill development.
The star rating scheme instituted by the Ministry of Mines, Govt of India, is designed to have a built-in compliance mechanism for environment and forest safeguards and help in recognizing good performers in the sector while encouraging all mining lease holders to strive for excellence. After receiving the award, Dr. Chand dedicated the recognition to the collective efforts of the employees and other stakeholders. "The award is testimony to the tireless efforts of the Nalconians and the best practices being implemented by the company since its inception," Dr. Chand said.