Morpho (Safran), through its subsidiary Morpho Detection, announced that more than 50 airports throughout Europe deployed Itemiser® 4DX explosives trace detectors (ETD) in 2015.
The next-generation of the industry-leading Itemiser family of desktop ETD, Itemiser 4DX was the most selected ETD system by airports to meet EU legislation for enhanced passenger screening effective September 2015. With more than 900 shipped worldwide this year, Morpho has deployedItemiser 4DX to leading European aviation hubs including in Austria, Denmark, Germany, Italy, Portugal, Spain, Switzerland and the UK. A lightweight, portable desktop system, Itemiser 4DX quickly detects and identifies trace amounts of explosives on skin, clothing, carried items, bags, vehicles and other surfaces.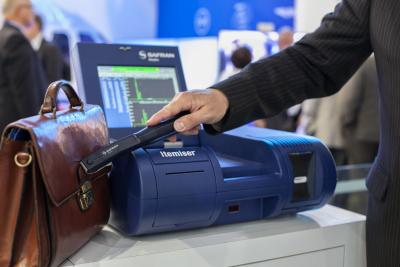 "By investing in localized sales and service support, Morpho Detection was able to offer airports a comprehensive solutions partner to meet the new regulations and we have been thrilled by the response of our customers and partners," said Karen Bomba, president and CEO, Morpho Detection. "Morpho Detection takes great pride in and thanks our customers for making us the leading supplier of European Civil Aviation Conference (ECAC)-approved ETD to airports in Europe. We will continue working tirelessly to serve our customers and grow this momentum in Europe and around the world."
Currently approved for passenger and cargo screening throughout ECAC's 44 member nations, Itemiser 4DX delivers advanced explosives and narcotics detection and screening capabilities powered by a non-radioactive ITMS™ source. Designed for easy physical access to maintenance areas, Itemiser 4DXleverages long-life consumables and internal calibration to minimize operational costs for airports and air cargo facilities, law enforcement agencies and government and critical infrastructure installations.
Itemiser 4DX is on display and available for demonstrations in Booth F15 at Transport Security Expo (Transec),  in London.