The week-long observance of vigilance awareness was concluded with the closing ceremony held at Corporate Centre of Power Grid Corporation of India Limited (POWERGRID), a Maharatna CPSU under Ministry of Power, Govt. of India. During the closing ceremony, Shri D. K. Madan, CVO welcomed Shri Hari Mohan, I.O.F.S., Ex Chairman ; Director General, Indian Ordnance Factories and he addressed on Vigilance issues ; Decision Making in Complicated Situations. Shri R. K. Tyagi, Director (Operations) and Shri G. Ravisankar, Director (Finance) attended the event. The Annual Vigilance House Journal of POWERGRID 'Candour' was also released by the dignitaries on this occasion.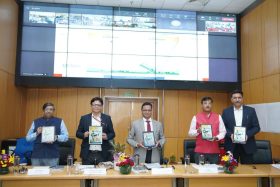 During the Vigilance Awareness Week, a Vendor Meet was also organised on 2 nd November 2023, at Corporate Centre, Gurugram. Shri Abhay Choudhary, Director (Projects), Shri R. K. Tyagi, Director (Operations), Dr. Yatindra Dwivedi, Director (Personnel) and Shri D. K. Madan, CVO interacted with vendors and noted the feedback. It brought together vendors, suppliers, and key stakeholders, laying the foundation for stronger partnerships and collaborations. Vendor Meets were also organized in the regional headquarters throughout the country.
During the VAW-2023, walkathon ; several Gram Sabhas were conducted across the nation apart from competitions for school and college students for public awareness.