SJVN is observing Vigilance Awareness Week from 26th to 31st October 2015. The theme of Vigilance Awareness this year is "Preventive Vigilance as a tool of Good Governance". The Vigilance Awareness Week is being celebrated every year and coincides with the birthday of Sardar Vallabhbhai Patel(31st October), known to be a man of high integrity.
Shri N.L. Sharma Director (Personnel), SJVN informed that the celebrations started with SJVN employees taking pledge that they will not indulge in corrupt practices while discharging their official functions. Sh. R.N. Misra Chairman & Managing Director administered pledge at New Delhi Office, while at Corporate Office, Shimla, pledge was administered by Sh. A.S. Bindra, Director (Finance). He further told that besides the regular activities of display of banners, posters and competitions among employees, SJVN this year reaching out to college and school students in a big way. In this regard declamation competitions are being organized in the various schools and colleges located around our area of operation such a Rampur, Parwanoo, Jhakri, Nathpa, Sunni. Nirath, Hamirpur and Shimla in Himachal Pradesh, Dehradun, Mori, Tharali and Naitwar in the state of Uttrakhand besides this the competitions are also being organized at Khirvire in Maharashra and in Patna & Buxar in Bihar .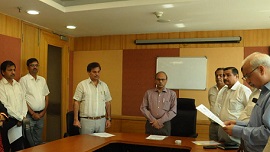 The purpose of competition is to educate the youth about importance of morals and values, honesty and integrity, ethics, transparency in governance and how youth can participate in the fight against corruption. Sh. Sharma also told that, SJVN is organizing declamation competition on Vigilance Awareness in various school and colleges in and around Shimla town this week and winners of school/college level will be participating in Grand Finale being organized by SJVN on 30.th October 2015 at Hotel Holiday Home, Shimla. Shri B.N.S. Negi, IPS, CVO, SJVN Limited told that the main objective of observing Vigilance Awareness Week is to sensitize employees about bringing and maintaining integrity, fairness and transparency in all aspects and spheres duties by working relentlessly for eradication of corruption in every sphere and to educate public about corruption and its ill effects.