Social security scheme for Khadi artisans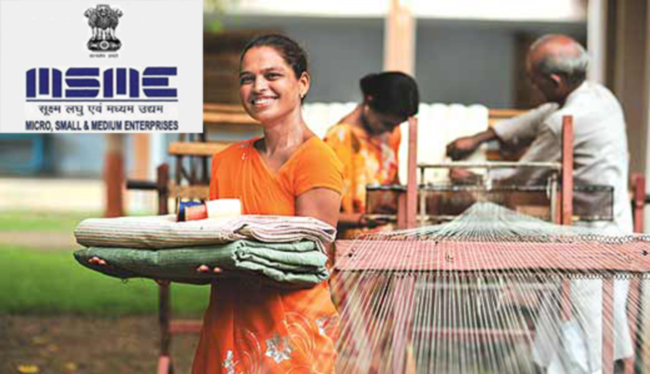 Minister of State for MSME Shri Giriraj Singh has informed that Khadi artisans are self-employed artisans of the Khadi and Village Industry (V.I.) Institutions. To protect the interest of artisans, Khadi and Village Industries Commission (KVIC) has issued directions to all Khadi Institutions to ensure payment of wages directly into Aadhaar Seeded bank account of artisans. KVIC is releasing Market Development Assistance incentives to Khadi artisans and Khadi Institutions through a DBT Portal directly into their Aadhaar Bank Accounts.
Khadi Artisans are self-employed entrepreneurs and earn their wages based on the quantum of production of spinning and weaving etc. done by them. Though these artisans are skilled, their working norms are flexible and therefore their earnings vary.  Therefore, these artisans are not comparable with skilled labourers of private sector.  The earnings of the artisans is commensurate to the work done by them.
Government is implementing the Aam Aadmi Bima Yojana (AABY) (earlier known as Khadi Karigar 'Janashree Bima Yojana' which was merged with  Aam Admi Bima Yojana w.e.f. 1.1.2013) through KVIC in association with the Life Insurance Corporation of India (LIC) to provide insurance cover to Khadi artisans against normal and accidental death and disability. Under AABY, the Khadi Artisans belonging to the age group of 18 to 59 years are provided insurance cover for the following:
                   i)     Death (natural)                                                                      :  Rs.    30,000.00
                 ii)     Death (accidental)                                                                :  Rs.    75,000.00
               iii)     Disability (permanent)                                                          :  Rs.    75,000.00
               iv)     Disability (partial)                                                                 :  Rs.    37,500.00
                 v)     Educational Benefits (Shiksha Sahayog Yojana)     :
Two children of Khadi Artisan who are studying in standard IX to XII including Industrial Training Institutes (ITIs) are eligible for scholarship of Rs.300/- per quarter.
       The premium amount of the scheme is Rs.100/- per annum which is shared as:
12.50% by Artisan
12.50% by KVIC
25% by Khadi Institution
50% by Central Government (National Social Security Fund)
 Government of India has announced several schemes for the welfare of workers and artisans associated in decentralized sector namely Pradhan Mantri Suraksha Bima Yojana (PMSBY) and Atal Pension Yojana (APY).  The Ministry of MSME and KVIC has advised all khadi institutions to cover their artisans suitably under these schemes.
Government is also implementing the '"Coir Workers" Group Personal Accident Insurance Scheme which is aimed at providing insurance coverage against accidental death, permanent total disability and permanent partial disability to the coir workers in all coir producing States in India. The maximum amount of compensation payable is Rs.50,000/- in the case of death/permanent total disability and Rs.25,000/- in the case of permanent partial disability.  The premium for the entire coir workers is paid by Coir Board to the Insurance Company as a lump sum amount towards the renewal of the policy every year. The coir workers aged 18 years and above engaged in the industry (no upper age limit) are covered under the scheme. The scheme was converged to the Core scheme Pradhan Mantri Suraksha Bima Yojana (PMSBY) during July, 2016.