PM lays foundation stone for bridge between Okha and Beyt Dwarka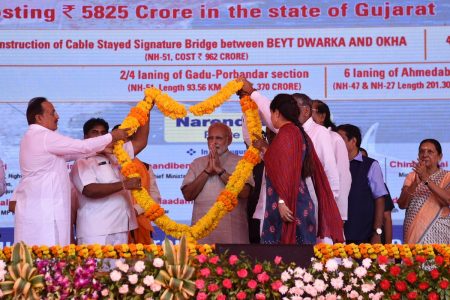 Prime Minister Narendra Modi lays foundation Stone of 4 laning of Porbandar Dwarka section of length 116.23 km. He laid foundation Stone of 2 and 4 laning of Gadu-Porbandar section of length 93.56 km.
Prime Minister has said that cable stayed bridge between Okha Port and Bet Dwarka is an effort to establish the historic links between this two places. He said that this will also ends the difficulties faced by pilgrims since many years. He was speaking at Dwarka in Gujarat after laying foundation Stone of cable stayed bridge and other road projects. Prime Minister said that government is spending huge amount for widening of roads and linking places of tourist interest.
He said that this will enhance economy and trade and business via. employment at local level. He said that government is emphasising on 1600 km long sea coast of Gujarat for port led development to encourage blue economy.
Prime Minister also announced to set up country's biggest Marine police research Institute in Devbhumi Dwarka district in Dwarka. He described the recent GST Council decisions as Diwali gifts to trade , industry and business community.
Earlier, Prime Minister Narendra Modi has arrived in Dwarka today on a two-day visit to Gujarat during which he will lay foundation stones and inaugurate a number of projects. After his arrival, he has performed special puja and Darshan at the iconic Lord Dwarkadheesh Temple. While visiting the Lord Dwarkadheesh Temple, Prime Minister also met the people waiting on the roadside to get the glimpse of their popular leader.