Pankaj Yadav appointed District Magistrate- Bareilly, UP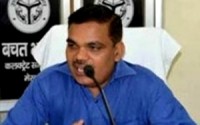 Shri Pankaj Yadav IAS (Haryana 2001) presently posted as Special Secretary of Basic Education has been appointed as District Magistrate (DM) in Bareilly, Uttar Pradesh. Shri Yadav has been on inter cadre deputation from Haryana to Uttar Pradesh  cadre for 2 years beyond 14.01.2016 on personal grounds.
IndianBureaucracy.com wishes Shri Pankaj Yadav the very best.