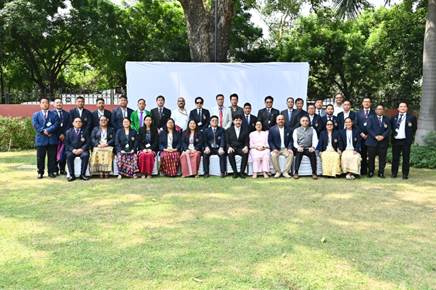 The 2-week Capacity Building Programme (CBP) for civil servants of Arunachal Pradesh organised by the National Centre for Good Governance (NCGG) concluded on 22nd September, 2023 in New Delhi. The officers from Arunachal Pradesh were trained at NCGG, both at Mussoorie and New Delhi. This is in furtherance to further improve the governance and public service delivery in North-East and Border States. An MoU was signed with NCGG in 2022 to train 500 officers of Arunachal Pradesh over the next five years. As part of the agreement, NCGG has already imparted training to 83 officers.
The two-week capacity building programme was scientifically tailored by the NCGG team and included the exchange of vast information, knowledge, new ideas, and best practices that promote citizen-centric governance. The valedictory session was presided over by Shri Puneet Yadav, Joint Secretary, DARPG, Government of India. He requested the participating officers to make full use of the exposure that they had during the programme and urged to share knowledge as mutual learning has the potential for exponential growth. The officers gave elaborate and wonderful presentations on "Improving Service Delivery and Effective Redressal of Public Grievances", "Aspirational District Programme in Arunachal Pradesh" & "Arunachal Pradesh Rising" as part of learning outcomes of the programme
The overall supervision and coordination of the 3rd capacity building programme was carried out by Dr. B. S. Bisht, course coordinator for Arunachal Pradesh, along with Dr. Sanjeev Sharma, co-course coordinator, and the capacity building team of the NCGG.