National Productivity Day celebration inaugurated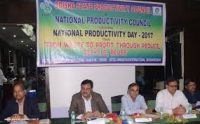 The National Productivity Day celebration was inaugurated by Shri Sanjeev Gupta,Additional Secretary, DIPP . Addressing the gathering he said that technology should be utilized for effective dissemination.Mr Gupta said instead of generic suggestions, specific efforts needed to enhance productivity in few priority sectors need to be undertaken. He emphasized that productivity consciousness needs to be built on a continual basis and not be a mere ritual.
DG,National Productivity Council Mrs Kalpana Awasthi highlighted the importance of growth through productivity.
Painting competition and Hackathon competition were organised on the occasion and first three winners in both the events were awarded cash prizes.