Nalco felicitates football prodigy Chandan Nayak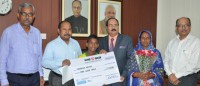 Navratna Nalco has come forward to support the journey of the budding footballer Chandan Nayak, who has been selected for a 2-month training at Bayern Munich, the iconic football club in Germany, as an academy player. It may be mentioned that the club is the second most sought after football club of Europe. While felicitating the 11-year-old boy from Sabar Sahi slum of the city, Nalco's CMD Dr. Tapan Kumar Chand said, "Nalco, which is regarded as the Pride of Odisha, is proud to felicitate this soccer prodigy of the State. To me, he is the Indian Messi in making."
Dr. Chand handed over a cheque of Rs. 1 lakh to Chandan, at Nalco's Corporate Office on yesterday, in presence of Shri K.C. Samal, Director (Finance), Shri B.K. Thakur, Director (HR) and Shri P.K. Mohanty, CVO. Shri Piyush Goyal, Union Minister for Power, Coal, New & Renewable Energy and Mines and Shri Dharmendra Pradhan, Union Minister for Petroleum and Natural Gas have also congratulated Chandan through Nalco for his selection.
"Nalco is the first organization that has come forward with financial assistance to my child," said Chandan's mother Smt. Duhita Nayak. The overwhelmed mother thanked both the Union Ministers Shri Piyush Goyal and Shri Dharmendra Pradhan, as also Nalco's CMD Dr. Tapan Kumar Chand for Nalco's goodwill gesture. It may be mentioned that, Chandan, who is currently being trained by Coach Jayadev Mahapatra, is one of the five talents in the country selected for such training. He is the youngest among the lot and only player representing Odisha.
IndianBureaucracy.com wishes Chandan Nayak the very best.