MTDC pushes for National Agri Tourism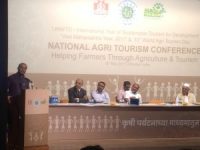 [Indian Bureaucracy]: The Maharashtra Tourism Development Corporation (MTDC) organised a conference on National Agri Tourism on the occasion of the tenth World Agri Tourism Day in Mumbai. The objective was to create employment opportunities and boost investment in the agriculture sector that would encourage tourism. Jaykumar Rawal, Honourable Minister of Tourism, was present at the conference and spoke about how farmers and other stakeholders can develop their skills and farms to attract more tourists looking for a rural, farm-stay experience.
The discussion at the conference also touched upon MTDC's 'Mahabhraman Scheme' that showcases farmer's lifestyle and experiencing different activities like planting trees, plucking fruits and vegetables, bullock cart rides, etc. "The Department of Tourism also intends to set up a government interface to cater to the needs of the agri-tour operators. This interface will co-ordinate and provide link with regional and local government bodies to boost employment opportunities and sustainability in the agricultural sector," Rawal revealed.