UP to have its MSME Hub soon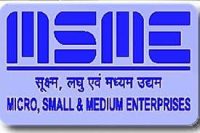 An MSME hub to promote leather goods, hosiery and machine manufacturing is likely to come up soon in the adjoining trans-Ganga city, with the UP government pulling out all the stops to make it a reality.
Given the efforts of the Uttar Pradesh State Industrial Development Corporation (UPSIDC), several entrepreneurs in China have agreed to invest in select industries in the state, a top UPSIDC official D K Garg told.The Chinese firms expressed willingness to invest in Uttar Pradesh at a recent meeting between members of an Indian delegation and their counterparts of China.
Garg said the Chinese entrepreneurs have agreed to invest Rs 7,000 crore in the state in the hosiery goods, shoes and machinery manufacturing sector. The investments are expected to open up new horizons of employment for skilled labour.
The micro, small and medium enterprise (MSME) hub could come up at the trans-Ganga hi-tech city, spread over 1,100 acres near the Ganga barrage, that is equidistant from Kanpur and state capital Lucknow, Garg said.
The UPSIDC has also decided to develop small scale industrial units to boost hosiery, ready-made garments, leather goods and furniture industry, the corporation's MD Ranveer Prasad said.
These units will be allowed to function from multi-storey buildings rather than from any separate industrial complex.
"It will be beneficial for the small industrialists to set up their respective industries in multi-storey buildings. They will not require to get the map of industrial plots passed by municipal authorities. Besides, they will get space at cheaper prices," Prasad reasoned.
Industrial plots are available at Rs 10,850 per square metre while industrial flats in multi-storey buildings can go for as little as Rs 3,000-4,000 per sq mt, he said.