India's Growth Story looks more promising than ever before | Suresh Prabhu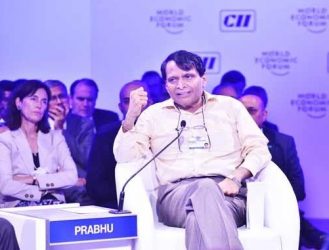 According to Mr. Suresh Prabhu, Minister for Commerce and Industry, India's growth story looks more promising than ever before. Mr. Prabhu was speaking at a session on Manufacturing: Making Progress in India at the India Economic Summit being organized by the World Economic Forum and the Confederation of Indian Industry (CII) in New Delhi from October 4-6, 2017. Mr. Prabhu stated that the objective of the government is to make India one of the easiest places in the world to do business.
The Minister stated that the government is encouraging emerging industries while simultaneously trying to modernize traditional industries such as textiles. The government is also boosting adoption of Artificial Intelligence and Robotics in the traditional industries. He said that the government is creating demand in the country by stepping up public sector investment in sectors such as the railways.
Mr Amitabh Kant, CEO, NITI Aayog said that Indian companies cannot grow based on domestic demand alone and need to explore ways to tap into global supply chains. He was of the view that Indian companies should focus on developing quality and excellence, and grow MSMEs into larger entities to compete in the overseas market. Focus needs to be given to development of coastal zones to promote exports. 
Mr. Prashant Ruia, Director, Essar stated that tremendous progress has been made in the power sector in India and the country is generating about 80,000 MW of surplus power at the moment. The focus of the government is now on providing reliable power to every paying customer.
According to Mr. Sanjeev Sharma, Chief Executive Officer and Managing Director, ABB, the focus of the energy sector is now shifting towards promotion of energy efficient technologies and deployment of new technology to manage networks better.
Mr. Sumit Sawhney, Country Chief Executive Officer and Managing Director, Groupe Renault stated that the automotive sector in India is working at 65% capacity and the challenge is to utilize the balance 35%. He believed that as demand in the rest of the world picks up, this excess capacity would be ulilised.