A High-Level Committee, formed on September 2, 2023, to examine the possibility of simultaneous elections in India, convened its preliminary meeting today in the presence of Chairperson Shri Ram Nath Kovind, Former President of India.
Notable attendees included Shri Amit Shah, Union Home Minister and Minister of Cooperation; Shri Arjun Ram Meghwal, Minister of State (Independent Charge) Ministry of Law and Justice; Shri Ghulam Nabi Azad, former Leader of Opposition, Rajya Sabha; Shri N. K. Singh, former Chairman, 15th Finance Commission; Dr. Subhash C. Kashyap, former Secretary General, Lok Sabha; and Shri Sanjay Kothari, former Chief Vigilance Commissioner. Senior Advocate Shri Harish Salve joined virtually, while Shri Adhir Ranjan Chowdhury, Leader of the single largest party in Opposition, Lok Sabha, was absent.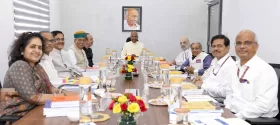 During the meeting, Shri Ram Nath Kovind, the Committee's Chairman, outlined the meeting's agenda and discussed the working modalities. The Committee agreed to seek suggestions and viewpoints on the issue of simultaneous elections from recognized National Political Parties, Political Parties with State governments, Political Parties represented in Parliament, and other recognized State Political Parties. Additionally, the Committee will invite the Law Commission of India to contribute their insights on this matter.
The meeting concluded with a vote of thanks.