HAL Wins Maximum Awards at Lalbagh Flower Show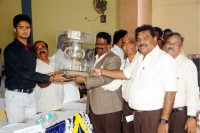 HAL won record 205 first prizes, 21 second prizes and 20 rolling shields at the 10-day popular Lalbagh Flower Show held to mark the Independence Day celebrations in Bengaluru.  This is the highest ever in terms of number of prizes won in the prestigious Flower Show, as a result of which HAL was bestowed with Sri S.G. Balekundry Memorial General Championship Rolling Trophy.
HAL won maximum number of prizes under various categories such as  Roses, Bougainvillea, Crotons, Hibiscus, Chrysanthemum, Dahlia, Glodoli, Cactus, Falliage plants, Perennial Plants, Bulbous plants, Annuals, Pot grown vegetables and Ornamental gardens. Mr. T. Suvarna Raju, CMD, HAL congratulated HAL's Facility Management and Aerospace Composites Divisions for putting-up the excellent and colorful show that attracted people from all over the city.