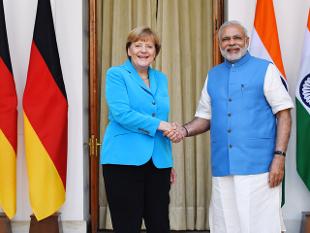 In a diplomatic news update, Government of India and KFW (Federal Republic of Germany) signed two loan agreements worth Euro 125 Millions for financing two projects under the Green Energy Projects (GEC) programme- Himachal Pradesh (Euro 57 million) and Andhra Pradesh (Euro 68 million). Loan agreements were signed by Mr. S. Selvakumar, Joint Secretary (Bilateral Cooperation), Department of Economic Affairs, Ministry of Finance on behalf of the Government of India and Mr. Roland Sillar, Member, KFW Board Management, from German side. Project agreements were also signed by Mr. S.L. Sharma, MD, HPPTCL and Mr. P. Satyamoorty, Director (Finance), Andhra Pradesh TRANSCO relating to their respective State(s)
With the Green Energy Corridors, the intra-State network will feed the renewable energy to the respective State grids and the high capacity transmission corridors and inter-State network will connect major renewable energy pockets with the national grid.
Renewable Energy is one of the key areas of Indo-German partnership mentioned in the Joint Statement of Hanover in April 2015 and with financing of the transmission infrastructure of Renewable Energy projects, the Central and State grids will be strengthened to evacuate more green energy.
IndianBureaucracy.com wishes the very best.