Delhi Government to buy 1,000 new buses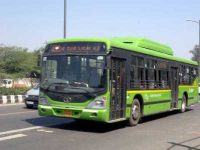 The Delhi government will buy 1,000 new standard-floor buses to improve the public transport system, Deputy Chief Minister Manish Sisodia said .A proposal to procure the non-air-conditioned buses was approved by the Delhi Cabinet, Sisodia said, adding the new buses would boost the transport system in outer Delhi areas.
"The procurement is expected to start in eight months and by the end of the year all buses are likely to be on roads," he said.Of the new buses, 100 will be added to Rewla Khanpur depot, 250 to Dwarka Sector 22 depot, 120 to Kharkhari Nahar, 90 to Bawana Sector 1 depot, 160 to Rani Khera-I, and 140 buses each to Rani Khera-II and Rani Khera-III, a transport department official said.
The Delhi Multi Modal Transit System has been appointed consultant for the engagement of these 1,000 buses.
Transport Minister Kailash Gahlot said the buses will oprate under the cluster scheme.
"We can pruchase more buses if the required land (to station them) is given to us by the DDA," Gahlot said.
In September, the Delhi Cabinet had approved a proposal to buy 2,000 buses, including 1,000 for the state-run DTC.
The Delhi Transport Corporation currently has a fleet of around 3,900 buses, while the DIMTS runs more than 1,600 buses under the cluster scheme.