CII Industrial Relations Summit 2018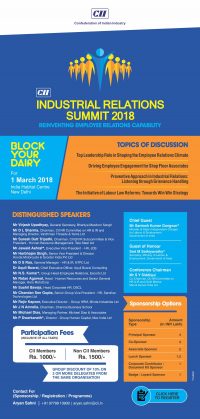 Confederation of Indian Industry (CII):industrial licensing was abolished and economic reforms on a wide scale started taking shape. With effect from 1st January 1992, in keeping with the government's decision to opt for the liberalisation of the Indian economy, the name of CEI was changed to Confederation of Indian Industry (CII). In a new policy environment, it was natural that there would be inter-sectoral integration through a process of diversification and expansion, where the engineering units would diversify into non-engineering units and vice-versa.
Since 1992, through rapid expansion and consolidation, CII has grown to be the most visible business association in India.
Date and Venue
Start Date:Mar 01, 2018 
Venue: IHC, , , India