Campaigning in full swing for 5th phase of Assembly polls in UP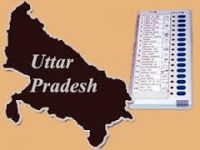 In Uttar Pradesh, campaigning has reached its peak for fifth phase of assembly elections with Prime Minister Narendra Modi, BJP president Amit Shah, Congress vice President Rahul Gandhi, Samajwadi Party President Akhilesh Yadav and several other leaders from different major political parties addressing rallies and public meeting in poll bound areas.
Senior BJP leader and Prime Minister Narendra Modi said that change of guard in Uttar Pradesh is the need of the hour, which is essential for the progress of the state. Addressing a rally in Gonda, he said that Samajwadi Party government in the state has failed on all fronts including law and order and development of the state.
Underlining schemes and programmes initiated by his government for the over-all development of the country, particularly farmers and down trodden people, he accused the Akhilesh Yadav government for lagging behind in implementation of insurance schemes for farmers.
He said, his party is committed to the progress and eradication of menace of black money. Referring to his government's decision of demonetisation, Mr Modi said, it has given positive results in favour of the country's economy. He said, entire country has supported him on the issue.
Our correspondent reports that it was last rally of Mr Modi for fifth phase of assembly polls.
Addressing public meetings at Baharaich, Basti and Balrampur districts, Congress vice president Rahul Gandhi alleged that decision of demonetisation taken by the centre was only in the favour of few capitalists and common men faced hardship due to this decision.
He said that Modi government failed to keep promises made during the Lok Sabha polls. He said Union Government's Made In India programme has also failed.
Addressing several ralies in Faizabad and Ambedkar Nagar, Samajwadi Party President Akhilesh Yadav said that BJP was trying to ignore the issue of development. Mr Yadav accused the BJP of trying to undermine his government's works.