BHEL regains growth & profitability | Announces bonus issue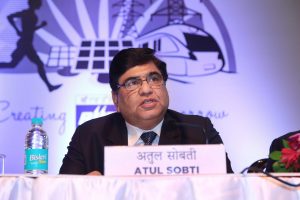 In spite of fiscal 2016-17 being an extremely challenging year, Bharat Heavy Electricals Limited (BHEL) has achieved double digit growth in its topline and bounced back into profit in fiscal 2016-17, reversing the declining trend of the last three years and ending the year with significant traction in growth drivers. This was stated by Mr. Atul Sobti, Chairman & Managing Director, BHEL at the 53rd Annual General Meeting of the company, here today.
Addressing shareholders, Mr. Sobti said that during the year, BHEL recorded a turnover of Rs.28,840 Crore, up 11% over the previous year and a Profit Before Tax (PBT) of Rs.628 Crore, compared to a loss of Rs.1164 Crore (IND-AS restated) in the previous fiscal. Net Profit (PAT) stood at Rs.496 Crore, against a net loss of Rs.710 Crore (IND-AS restated) in the previous year. Consequently, an interim equity dividend of 40% has been paid for 2016-17, maintaining the track record of paying dividends uninterruptedly since 1976-77. In addition, the company has recommended a final dividend of 39%, subject to the approval of shareholders. With this, the total dividend for the year 2016-17 would stand at 79%.
2017 marks the 25th year of BHEL being a public listed company and it has been a very rewarding journey for the company's shareholders. Continuing its endeavour of consistently rewarding investors, the company has also recommended issue of bonus shares in the ratio of 1 bonus share for every 2 existing shares, he added.
Mr. Sobti said that enhanced focus on expeditious project execution has resulted in BHEL achieving a capacity addition of 45,274 MW during the 12th Five Year Plan period (2012-17), surpassing the target of 41,661 MW set by the government for BHEL, by 9%. With this, BHEL continues to remain the single largest contributor to the country's power generation capacity addition. During the year, BHEL commissioned/synchronized 8,570 MW of power generating equipment. With this, the company's installed power generating capacity has gone up to around 180 GW, across the world.
Significantly, four supercritical sets including three sets of 660 MW rating & one unit of 800 MW rating have been successfully commissioned during the year. With this, BHEL has commissioned 15 Steam Generators and 13 Turbine Generators- supercritical sets till date. The company also commissioned its single largest 50 MW Solar PV power plant at NTPC Ananthpur, he added.
The CMD said that a major highlight of the year was BHEL's foray as a co-developer into power generation with the commencement of commercial operation of the first 800 MW unit at its Yeramarus TPS (2×800 MW) – a joint venture with equity contribution from KPCL, BHEL and IFCI.
76/62 mm Super Rapid Gun Mount (SRGM), the most distinctive & noticeable armament, and Auxiliary Control System (ACS) was commissioned on INS Chennai, the third ship of the Kolkata-class stealth guided missile destroyers of the Indian Navy. With this, all the three ships of this class have been equipped with BHEL manufactured SRGM and ACS, said Mr. Sobti.
Another significant achievement of the year was the successful commissioning of all the three units of the prestigious 3×14 MW Salma hydropower project (Afghan India Friendship Dam) in Afghanistan, overcoming major security concerns and immense logistic barriers. With this, the company marked a major milestone in the 'Make in India' initiative, he said.
The CMD said that despite intense competitive pressure during the year, BHEL booked orders worth Rs.23,489 Crore, ending the year with a total order book of Rs.1,05,200 Crore for execution in 2017-18 and beyond. As a result of persistent efforts towards globalization, the company secured the largest ever export order, valued over Rs 10,000 Crore – the first ever overseas contract for setting up the 2×660 MW Maitree Thermal Power Plant on EPC basis, in Bangladesh. A major order was won from PGCIL for ±800 kV, 6000 MW HVDC terminals associated with the HVDC Bipole link between the western and southern grid of India. Other significant orders include the 18×145 MW Palamuru Rangareddy Lift Irrigation Scheme stages 2&3 from Govt. of Telangana – comprising the largest rating pump motor sets ordered for supply in India, and 57.6 MLD ultrafiltration water package order from NTECL Vallur TPS. With the highest total SPV power plant orders won during the year for 131 MW, BHEL's total solar portfolio now exceeds 370 MW, he said.
With its innovation-led growth strategy, the company continues to rank among the highest R&D spenders in the country in the engineering and manufacturing segment with an R&D investment of over 2.5% of its turnover. The R&D efforts of the company are aimed at improving the efficiency of existing products and developing new products, relevant to the needs of the country both in terms of technology & features vis-à-vis global benchmarks. During the year, BHEL filed the highest-ever 508 patents and copyrights in a year, enhancing the company's intellectual capital to 3,915, said the CMD.
Mr. Sobti informed shareholders that forces of change like climate change, technology disruptions, fragile geopolitics, newer regulations, suboptimal investment from private sector and changing energy-mix are leading to emergence of newer challenges for the company. Initiatives taken by the government such as Ujwal DISCOM Assurance Yojana (UDAY), Goods and Services Tax (GST), push to 'Make-in-India' and visibility in resolution of stranded projects are very encouraging for sustained growth of the economy. The company is well on its way in the journey of 'Creating BHEL of tomorrow', a BHEL that is 'Responsive, Robust and Rising' to the needs of its stakeholders. The company has already taken important steps in this journey with focus on maintaining the current momentum of profitability, protecting the core business while building new capabilities, and diversifying by harnessing emerging opportunities.
The CMD said that for sustaining the momentum of growth and profitability, the company is focusing on expeditious execution of orders and implementing structural changes for making the company more agile. Efforts are being made to convert stranded/slow moving orders into executable ones. Significantly, around Rs 12,000 Crore of non-executable orders have been converted to executable during the year. Customer-focused business groups have been created for nuclear, hydro, defence & aerospace, and transportation for strengthening diversification efforts. A dedicated 'Project Closure Synergy Group' has been created to ensure early closure of project sites, optimize manpower utilization, resolving outstanding issues with various stakeholders, and realizing cash.
Looking to the future, he informed shareholders that BHEL is building a more diversified portfolio capitalizing on emerging opportunities in solar power, transportation, defence, aerospace and water business to increase the share of business from non-coal areas. Manufacturing capacity for solar cells and solar modules has been expanded to 105 MW and 226 MW per annum respectively. Continuing with the strategy of building capacity and capability through in-house resources, and collaboration with global technology leaders, the company has recently entered into a technology collaboration agreement with Kawasaki Heavy Industries Ltd., Japan for the manufacture of stainless steel coaches and bogies for Metro Rail.
Reiterating its commitment towards sustainable development, the CMD said that BHEL conducts business with the highest ethical standards for the growth and prosperity of all stakeholders on a sustained basis. The company continues to serve the community through various socio-economic and community development programmes to promote skill development, education, improvement of living conditions and hygiene in villages and communities located in the vicinity of our manufacturing plants and project sites spread across the country. In line with the Hon'ble Prime Minister's vision for skill development, BHEL trained 23,810 individuals under various schemes including 4,728 Act-apprentices in 2016-17. The CMD shared that the Hon'ble Prime Minister presented a cheque of the highest amount of Rs.1.79 Crore to BHEL as a mark of appreciation for BHEL's active participation by engaging a large number of apprentices under the National Apprenticeship Promotion Scheme (NAPS), representing the organisation's contribution to Prime Minister's 'Skill India' initiative.
BHEL achieved a carbon footprint avoidance of 14,378 MT CO2 equivalent during 2016-17 by generating 14.82 MU energy through in-house solar power installations. BHEL has partnered with HelpAge India, PHD Rural Development Foundation (PHDRDF) and Wockhardt Foundation for providing financial support for running operations of total 10 Mobile Medical Units (MMUs) in the vicinity of its project sites and manufacturing units, benefitting more than one lakh patients during 2016-17. Under GoI's 'Swachh Bharat' and 'Clean Ganga' initiatives, BHEL is providing support for construction of 25 Clusters of Bio-Digester toilets in Haridwar and Rishikesh, he added.
The CMD said that BHEL has invested more than 50 years in nation building endeavours. The current movement towards building a 'New India' also offers encouraging prospects. Team BHEL believes that it has the technology strength, manufacturing prowess, committed manpower, and innovation ecosystem to contribute in this movement.