A tripartite Memorandum of Understanding has been signed between Airports Authority of India (AAI), National Culture Fund (NCF) and Archaeological Survey of India (ASI) on 2nd June 2023 for Digital Up gradation of The ASI Hampi Museum, Kaamalpura, Karnataka . AAI would be funding this project as part of their Corporate Social Responsibility.
AAI has agreed to support the project with a contribution of Rs. 277.83 lakhs. The project aims at upgrading and enhancing the Hampi museum using state-of-the-art digital technologies:  interactive and immersive experiences to further increase footfall and educate the tourists about the glory of Hampi.
Hampi, the ancient capital city of the Vijayanagar Empire and UNESCO world heritage site, draws close to six lakh visitors annually, including a sizeable number of foreign tourists. There are multiple intriguing facets to the history, such as the timeline of its growth and expansion, the social life of its inhabitants including their traditions and festivals and the architectural and artistic marvels of the Vijayanagara period.
Through this project, On-site physical heritage experiences shall be improved by augmenting with knowledge-based navigation and information; to be achieved in some of the following ways:
An Immersive Hampi show about Stories of Hampi;
By creating new and innovative physical and virtual exhibits on the cultural themes of Hampi , 3D printed replicas of Hampi monuments showing virtual walkthroughs of the sites and allowing the users to interact with them using input devices to get more information.
The Virtual Hampi Museum – a digital space available on the web that will complement the existing ASI Hampi Museum at Kamalapura. The virtual museum will provide an immersive and interactive experience for visitors who are unable to visit the physical museum or for visitors who want to learn more about the exhibits and the history of Hampi in their own time.
VR experiences recreating the social and cultural life of Hampi.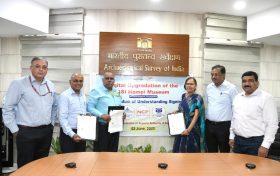 NCF is a Trust under the administrative control of Ministry of Culture, Govt of India. It's primary mandate is to mobilize resources, nurture & establish partnerships with donors willing to contribute towards restoration, protection and promotion of tangible and intangible cultural heritage of India. All contributions made to NCF are given 100% tax exemption under Section 80 G (2) of the Income Tax Act of 1961.
National Culture Fund's activities are covered under Schedule VII No.(v) of the Companies Act, 2013. As valid receptacle of Corporate Social Responsibility (CSR) contribution under – "(v) protection of national heritage, art and culture including restoration of buildings and sites of historical importance and works of art; setting up public libraries; promotion and development of traditional arts and handicrafts."