The 14th edition of Mumbai International Festival for Documentary, Short and Animation Films, popularly known as MIFF, will be held between January 28 to February 03, 2016. The screenings will be held at the Films Division theatres, Russian Culture Centre and Sophia College theatres at Pedder Road, Mumbai. The inauguration and closing functions will be held at the Ravindra Natya Mandir, Prabhadevi at 5.00 pm on 28th January and 03rd February, 2016 respectively. Jackie Shroff said that it is an honor to work as a brand ambassador of MIFF.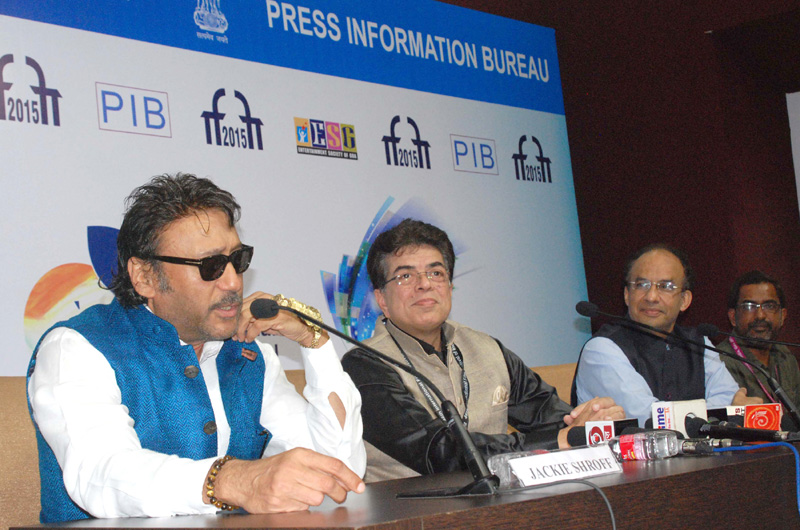 This prestigious biennial event is organized by Films Division of India, Ministry of Information and Broadcasting and is supported by the Government of Maharashtra. Jackie Shroff and Director General, Films Divison Shri Mukesh Sharma interacted with media today at International Film Festival of India, Goa
For the first time in history of MIFF which began in 1990, a mainstream artist will be the brand ambassador of the documentary festival. National Award winning actor, Jackie Shroff will promote MIFF extensively thanks to his love for the short films. Shri Mukesh Sharma, Director General Films Division and The Director, MIFF informed that Shri Jackie Shroff agreed to be the brand ambassador of the event the moment he mentioned about the festival and the role it plays in promoting the documentary movement in India. He further informed that Shri Shroff regards documentaries as catalysts for social change and is planning to make short films to spread awareness about dreaded diseases and on social issues.
Interacting with media Mr Jackie Shroff said that he feels honored to be the brand ambassador at MIFF. The oldest and largest festival for non-feature films in South Asia, MIFF attracts film makers and cineastes from all over the world, thanks to the quality of films in the competition and other sections. Cash prize worth 5.5 million Indian rupees, Golden Conches, Trophies and Certificates await winners in competitions including technical categories. The festival will also honor a veteran personality from the Indian documentary fraternity with the esteemed V. Shantaram Lifetime Achievement Award that carries a cash component of Rs. 5 lac, trophy and citation, Shri Mukesh Sharma added.
Shri Sharma further informed that a record 831 entries have been received for the competition and selection process for the short listing films to international, National, Technical, New Media and Animation competitions has been initiated by the festival directorate. Jury for International and Nationals competition will comprise of celebrated film makers and personalities from India and abroad.
The festival will have, apart from International and National competition, screening of films in MIFF Prism, Jury retrospectives, Animation and other packages from different countries and festivals, children's documentary films, North East DD package, FD and PSBT films, homages etc, making it a wholesome viewing experience for the delegates of MIFF-2016. The festival will also have master classes by master film makers, workshops, seminar and Open Forum by IDPA.
Buoyed by the warm reception to the MIFF zone screening of competition films in National category in cities other than Mumbai during the 13th MIFF, screenings will be held simultaneously in New Delhi, Chennail, Bangalore, Kolkata, Bhubaneswar, Guwahati, Lucknow, Nagpur and Thrissur. MIFF zone is aimed at taking the competition films to film lovers who are unable to travel to Mumbai for the MIFF. Screenings will also be held at the University auditorium Kalina, Mumbai.
The on-line delegate registration has been activated and cinephiles can log onto www.miff.in for early registration and other details about the MIFF-2016.