10000+ Schools in India to get free Online Training for Solar Car Model Development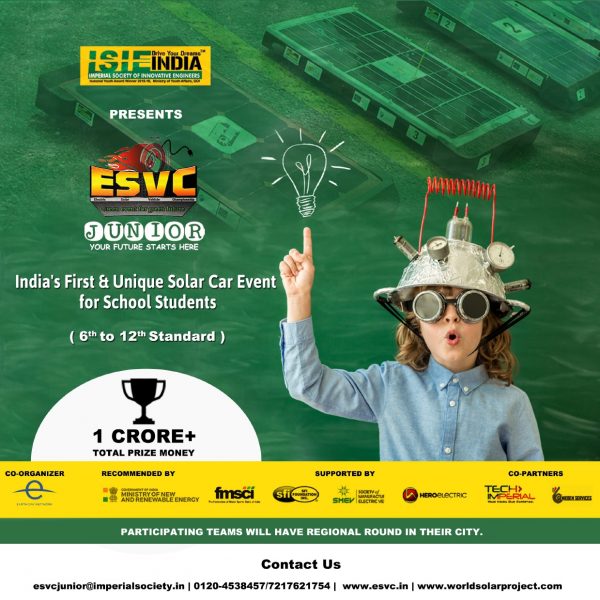 Imperial Society of Innovative Engineers (ISIE) , An Associate Member of FMSCI and SFI, National Youth Award Winner by Ministry of Youth Affairs, Recommended by Ministry of New and Renewable Energy, Govt. of India) is organizing first season of Electric Solar Vehicle Championship ESVC-JUNIOR, which is India's First & World's Unique Solar Electric Vehicle Construction & Race Competition for school students in order to provide hands-on learning platform to school students.
Learners Today, Leaders Tomorrow: Why students studying in the same school, the same course, appearing for the same test and scoring almost same marks but, some students are able to make it to a successful career but some are not even able to take the first step towards a career or possibly a job but without success. It is no longer just the cognitive skills rather, technological skills along with correct strategies that successful leader are implementing for getting a global advantage; and every school student needs to grasp these skills. Providing an opportunity for the school students to learn and grow to be the leaders for tomorrow, ISIEINDIA is providing an innovative platform for student's 360 Degree Development.
Skills Students Need for Their Future: ESVC Junior is focused on School students, where students will form the team and take part in it. Teams will participate in regional round first that is hosted by College/University in every region all over India. The regional round will be the qualifying round to participate in the final round (National Level). Top 3 teams from each zone will qualify for the final round where they will be new rounds and have the more competition at National Level. Each team will consist of 5 – 10 Members.
Training Modules
Module 1: Basic Concepts & Introduction about Solar Car
Module 2: Concept of Designing and Construction
Module 3: Motor & Battery
Module 4: Solar & Charging System
Module 5: Assembly of Components
Module 6: Remote Control System
Module 8: Team Building/Team Working
Event Rounds
Static Round
Design Presentation
Innovation Presentation
Dynamic Rounds
Rapid Run
Peak Power
Crux Run
Terrain Test
Round the Sun
Longevity Round
Visit http://www.worldsolarproject.com/esvcjunior/ to explore more.