Tag Archives:
Amravati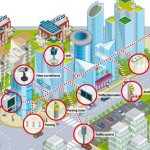 The Union government announced the list of 98 nominees of Smart Cities, covering a population of 13 crores i.e. approx. 35% of urban population . Venkaiah Naidu said that the Central government proposes to give support to Mission to the extent of Rs 48,000 crore over a 5 year period. The implementation of the Mission at the city level will be done by a Special Purpose… Read More
In a PSU news update; State-run Bharat Dynamics Limited will be investing Rs 1,000 crore for setting up a manufacturing plant of short-range missiles in Amravati, Maharashtra.
The defence sector public undertaking is expected to start setting up the facility by the end of this year.
The state government had allocated 500 acres of land in Nandgaon Peth in Amravati… Read More